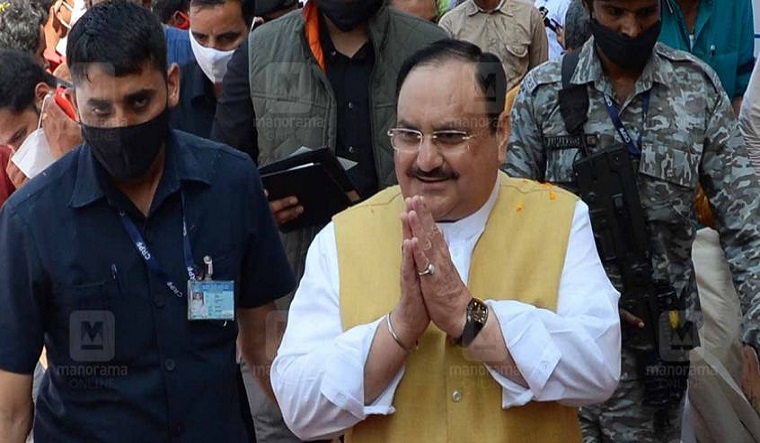 Jammu , March 7 ( KINS) BJP national president J.P. Nadda will arrive in Jammu on a one-day trip today to meet senior leaders of the party's core group to discuss strategy and preparations for the assembly polls in J&K by year end.
This is his first visit to the Union Territory in over two years. This is also the first visit since he he was made president of the BJP.
The visit is taking place in the wake of a recent statement by Home Minister Amit Shah that assembly elections in J&K will be held six to eight months after the Delimitation Commission submits its findings. The Commission was formed by the BJP under J&K Reorganisation Act, 2019, after the revocation of Article 370 and division of Jammu and Kashmir into two UTs.
The Commission has to submit the report by May 6. The Commission has recommended six additional assembly seats to Jammu region and one to Kashmir. That has riled up the regional parties like the NC and the PCP and smaller parties like the JK PC and JK Apni Party. Some Jammu-based parties are also not happy with the recommendations of the Commission. With an increase of six seats, Jammu will now have 43 assembly seats and Kashmir 47 in the 90-member assembly.
Nadda's itinerary includes a visit to Mata Vaishno Devi Shrine and meetings with the local leaders of the BJP in Jammu about the party's preparations for the assembly polls. He will be chairing the core group meeting and interact with office bearers. He will fly back to Delhi in the evening in view of the counting of the votes for the assembly elections of five states including Uttar Pradesh, Uttarakhand, Punjab, Goa and Manipur, which are scheduled to be held on March 10.
Nadda will be briefing the top J&K BJP leaders about the political situation in J&K and the party's preparations for the assembly elections.
The BJP is aiming to form the next government in Jammu and Kashmir. Party sources say that the leadership wants to use the increase of assembly seats in Jammu and slew of other measures including financial assistance to West Pakistan Refugees, reservation in jobs for people living close to the IB and economically backward class to woo voters in Jammu region.
The party is also tacitly backing smaller parties in Kashmir for a possible alliance after elections. The party faces a stiff challenge from Gupkar Alliance, a six-party alliance of regional parties led by Farooq Abdullah. The alliance seeks the restoration of Article 370 and statehood to Jammu and has rejected the recommendations of the Delimitation Commission.